On May 6th 2020, NHS East of England's Twitter came under some backlash for using "pregnant people" as a form of inclusivity.
The use of an inclusive term was met with some support, with many praising the tweet's use of gender-neutral language. However, there was much criticism towards the term, with some claiming that pregnancy was exclusively a female experience.

The tweet in question was an excerpt from an interview with an antenatal coordinator who described their job as "implementing all the screening programs for pregnant people and their newborn babies".
One user tweeted in response: "WOMEN. They are MOTHERS", while many commented to, in their words, correct the term to be women. Many of the criticism was from women who felt this was erasing female experience from pregnancy.

Laura Clarke, a member of the health organisation National LGBT Partnership, said within society, pregnancy is heavily presented as female-centric as transgender and non-binary pregnancies are rarely represented. Because of this lack of representation, there has been less attention in medical care for trans men and non-binary people who choose to become pregnant.


This year, the National LGBT Partnership ran the project Improving Trans Experiences in Maternity Service (ITEMS) which conducted a survey and held round table discussions with trans men and non-binary people who have been and were currently pregnant. ITEM focused on their maternity care, the positives and negatives they experienced, and how healthcare professionals could improve their service.

The NHS's online guidelines around inclusive language stated that their terms come from the communities themselves. However, Laura states they are significant since trans and non-binary people have often felt invisible from prenatal and postnatal care: "It's so important that we are checking in and making sure the language we are using is appropriate to be inclusive to everybody."

Especially within these past couple of years, pronouns have emphasised more with Instagram offering the feature for users to include their pronouns in their profile. Laura says this establishes a safe space for trans and non-binary people and creates allyship for trans and non-binary individuals whose identity is significant to them.
The LGBT Partnership worked with health care workers to improve the experience for trans and non-binary patients from their project. Some suggestions were towards duty of care. For example, patients would not have to repeatedly state their preferred pronouns if they had a consistent health care professional who knew their medical history, surgeries or hormone treatments they are on, which would reduce any stress.

Inclusive language would also extend to other elements of their medical journey, with the option to include gender-neutral language to describe specific areas of their body, like describing intimate areas as 'genitals' or referring to breastfeeding as chest-feeding. Laura states that having those conversations could help the person feel at ease through their journey, which is already an emotional experience.

"I think it's just the ability to have those conversations with your midwife or health team and to have those options so when you are going through this journey that you are being respected in your choices, the same way cis women are during their pregnancy."

Trans and non-binary people also experience stigma from outside because it challenges society's perception of pregnancy. Thus, particularly for more masculine-presenting people, navigating transphobia Laura states that it may also add to their already challenging journey.
However, this is not the first time inclusive language has sparked a debate. In 2020, J.K. Rowling came under fire after criticising a publication's choice to refer trans and non-binary individuals as "people who menstruate".

In her response tweet, she wrote: "People who menstruate. I'm sure there used to be a word for those people. Someone help me out. Wumben? Wimpund? Woomud?" After she faced backlash, she attempted to further explain by stating women's reality was being erased by removing the concept of biological sex. Rowling had also expressed support towards Maya Forstater. The latter reportedly lost her job after sharing comments that were viewed as transphobic.

Charlie, a 21-year-old trans student, expressed his frustration at her essay that Rowling later released, entitled "TERF Wars". He said because of her enormous audience, misinformation about trans people would be easily spread: "As a trans person, reading what she wrote is very apparent she has never spoken to a trans person about this."

However, Rowling is not the only public figure who has come under backlash for transphobia. During his time on Good Morning Britain, Piers Morgan has expressed questionable views on gender identity. He claimed that singer Sam Smith's announcement of their non-binary identity net a "spurge of popularity" and openly expressed his distaste towards non-binary genderfluid people.

Laura referenced these attitudes from public figures potentially influencing people's perception: "That is going to have an impact on the way we as an audience or people who may be fans perceive trans people. And I think it is important in terms of role models, we see representation".

Trans men who have decided to become pregnant have been vocal about their decisions to have biological children. In the U.S, Thomas Beatie became pregnant with his first child after his wife was unable to. His journey was documented in the documentary Pregnant Man and others have shared their experiences. In an interview with the Guardian, Jason Barker, who gave birth to his son in 2010, challenged the preconception pregnancy is an inherently female experience but instead another part of a long and complex journey for anybody.
However, this sentiment is not echoed in the reactions to the NHS's use of inclusive language. Much of the criticism was from women who felt that their feminine experience was being ignored. One tweet claiming women's rights were being neglected: "We are women, we have been & still oppressed & mistreated because we are the childbearing sex!".

Misogyny and discrimination surrounding pregnancy and childbirth have and continues to impact women today. Some discrimination places include the workplace, where employers passed over opportunities due to pregnancy or even the possibility that a woman may decide to become pregnant in the future.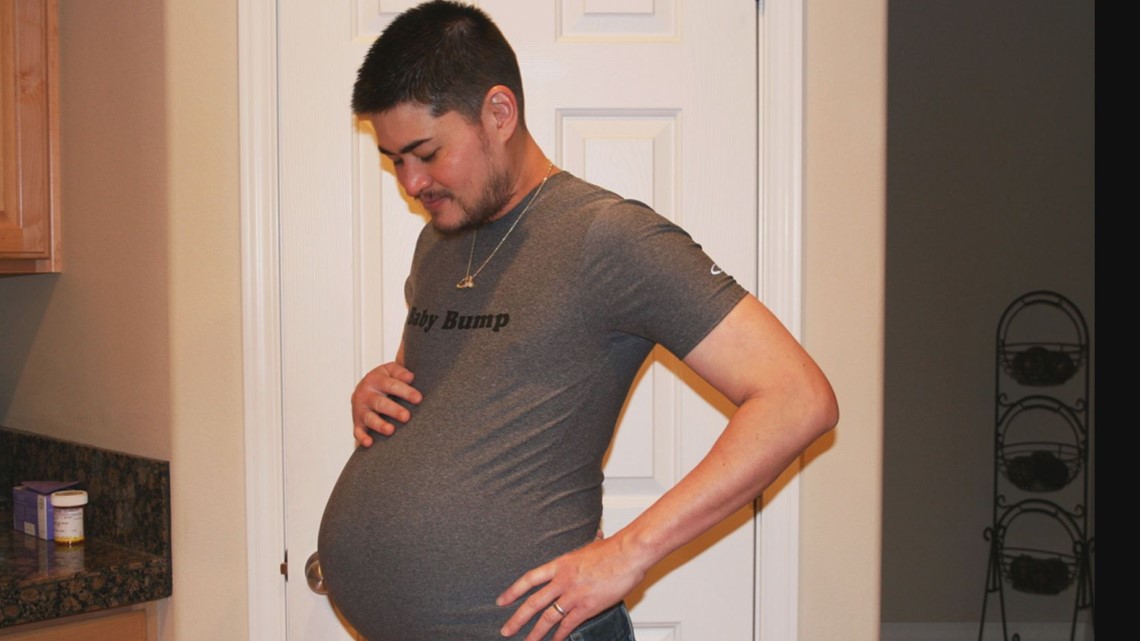 Pregnant women of colour have reported being discriminated against in Western countries. For example, the Guardian reported that black women in the U.K. were four times more likely to die in pregnancy or childbirth. And in the U.S, African American mothers were also four times more likely to die from pregnancy and childbirth, with their babies twice as likely to die within their first year.

However, Laura states that while these issues are equally important and should be discussed, trans and non-binary people should be included in these discussions: "It's not the case of fighting only one side. We can talk about issues that women specifically have with pregnancy, and we can talk about the issues transgender and non-binary people have. I think both of those things are equally as valid, and they are both conversations that we need to be having."
She further adds that, in her opinion, 'people' is not erasing women's experience; instead, it is all included in the term.
Charlie believes inclusive language is not harming anyone and can help vulnerable people from further mental scarring. He further states that rather than viewing this language as an attack on women's rights, women can choose to refer to themselves as pregnant women if they wish without invalidating someone else's identity.

"Talk to us. Listen to us when we explain what makes us uncomfortable or why these changes are happening. Things seem scary and unfair when people like J.K. Rowling and Piers Morgan rile you up with their misinformed ideas. It's important to listen to both sides."

Deprecated: Function get_magic_quotes_gpc() is deprecated in /var/www/wp-content/themes/ebullient/framework/lib/qodef.functions.php on line 214