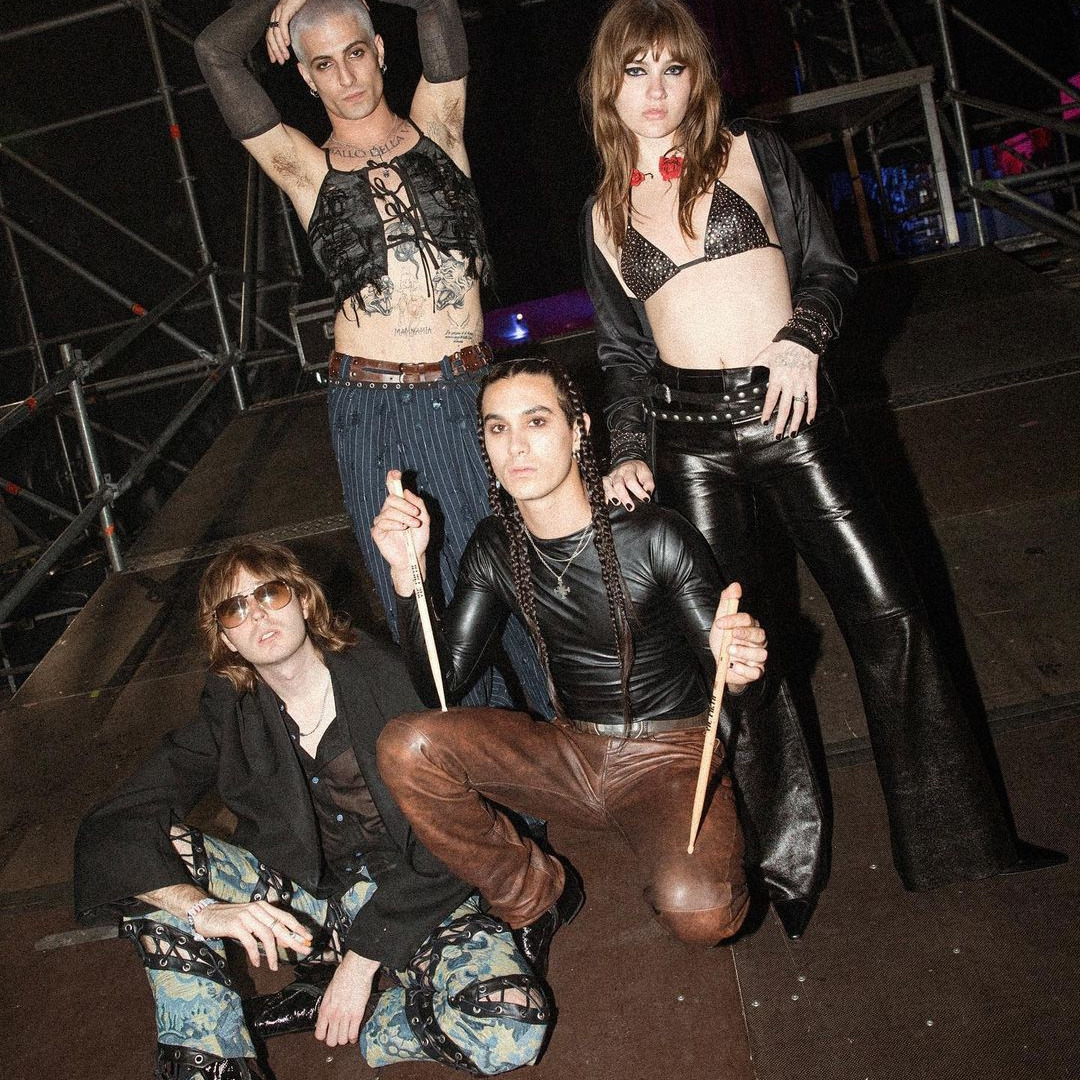 Måneskin: Blurring the Lines Between Gender Archetypes in the Music Industry
After their graceful rise to victory in this year's Eurovision competition, Måneskin have captured the world's attention. The Italian rock ensemble comprises vocalist Damiano David, guitarist Thomas Raggi, bassist Victoria De Angelis, and drummer Ethan Torchio. The popularity of the foursome is not only driven by their endearing collection of songs, but also their vibrant personalities and bold fashion statements that are helping to tear down conventional representations of gender in society and the media.

From busking on the streets, to finishing second place on X-Factor Italia, to winning an international songwriting competition, it has certainly been a triumphant time of growth for the band. Since their win earlier this year the media has observed the group performing on popular talk shows across the world, appearances that have accumulated millions of views online, and songs that have earned respectful positions on both the UK and international charts. Their winning Eurovision song 'Zitti E Buoni' received praise on social media and even influenced TikTok users to feature the hit single in their videos raising the band's profile even further. Setting them apart from their fellow musicians, is their 70s rock persona and sound that is intertwined with a modern deliverance of gender-neutral fashion and carefree identity that challenges the long-term stigmas in society of what men and women should wear and how they are supposed to act.
As witnessed in many of their marketing visuals, music videos, and live performances, the fashion selections made by Måneskin gratify and bring attention to the diversity of gender-neutral garments in modern society. Traditionally, children would be naturally ushered towards items that fitted either the male or female divisions. The term 'naturally' being used because it was done without there ever being a second thought on whether the child would question the outfit choices made on their behalf. It was simply a fixed routine of what the parents had conformed to when growing up and the expectations that society was manufacturing around them.
However, more recently, awareness has been heavily concentrated on the normalising of men wearing items of clothing that would commonly be associated with female attire, i.e., dresses, skirts, corsets, makeup. When Harry Styles' was photographed posing in a Gucci dress on the front cover of Vogue, many people were applauding the artist for expressing his fashion choice whilst others interpreted his expression of fashion freedom as 'queer-baiting'. There was also an emphasis by a minority of social media users, that this had already been done in the past so why was this being accepted only now?
In all fairness, there were men embracing 'feminine fashion' many years before Styles' embraced the Vogue cover and before gender-neutral fashion had been acknowledged. However, this was the first time a notable man had been photographed in a dress and on a prominent magazine, speaking up about gender neutrality in fashion, a topic that had never been heavily discussed on a large platform before. It paved the way for many artists to question their stance on the matter and whether they were conforming to societal standards and restricting their own fashion freedom.

The arrival of Måneskin on the music scene has added to the awareness of gender neutrality in the industry and expressing sexuality openly without the restraints of societal pressures. They haven't been reticent from disclosing and embracing their sexuality in front of the cameras, as well as with each other during their live performances. In an interview with Vanity Fair, Damiano, described himself as 'straight but curious', not wanting to place himself in a restrictive label that would isolate him from his charismatic stage personality. The singer has played a prominent role in advocating for both racial and LGBTQ+ rights. Also, voicing the belief that a person should freely be able to express one's fashion desires without the anxieties of being discriminated against. This notion is engrained into the band's image from their passionate displays of affection to wearing daring costumes that constellate sequins, leathers, latex and frills overseeing the gender archetypes in fashion. Even lingerie is incorporated into the costumes, throwing masculine and feminine conventions out the window to form spectacular outfits that illustrate the beauty and spirited characteristics of the group. A bold message which states that, a label can simply be cut off an item removing its limitation and that it is the person wearing the piece that truly justifies the allure of the apparel, so why should clothes ever have gender boundaries?

Deprecated: Function get_magic_quotes_gpc() is deprecated in /var/www/wp-content/themes/ebullient/framework/lib/qodef.functions.php on line 214