Lil Nas X's Montero: An LGBTQ+ crusade of biblical proportions
"In life, we hide the parts of ourselves we don't want the world to see. We lock them away; we tell them no…". This is the hauntingly encapsulating opening monologue to Lil Nas X's Montero music video, which reached over seventy-two million views and three million likes in a matter of eight days.  Capturing media attention across the globe, the potent lyricism and bold visuals bring to the forefront the experiences the singer has encountered with his sexuality in society. For this reason, it is essential to explore the statement Lil Nas X is attempting to make in a world where LGBTQ+ has finally formed a rightful stance in society but religious ignorance is drudging the movement's important progress. 
There is no shock, horror or surprise that the masterful presence of Lil Nas X's Montero music video on the internet has caused controversy regarding the satanic scenery and religious connotations. But, in the words of the singer himself, "I literally sing about lean & adultery in Old Town Road. You decided to let your child listen. Blame yourself". The frustrated tweet from Nas was a direct hit at Kristi Noem, the governor of South Dakota who had initially tweeted "Our kids are being told that this kind of product is, not only okay, it's exclusive".
The tweet was aimed at the singer's collaboration with streetwear company MSCHF to produce sneakers that were modified from Nike Air Max 97s. The Nike design influence was met with fiery backlash from Nike itself who established a lawsuit against MSCHF for 'infringing on and diluting its trademark'. Dubbed the 'Satan Shoes' for its utilisation of the devil orientated theme and the controversial drop of real human blood, have now been halted after Nike won the legal battle preventing the limited-edition shoes from being distributed. The shoes which are retailed at $1,018, sold out within a minute of going on sale, with 666 pairs (an ingenious nudge to the devil himself) being initially available to buy.
However, that all aside and continuing the controversial theme in his spectacular new music video, the rapper sings about his acceptance of his sexuality and embracing his identity in a reimagined Garden of Eden where he is free and unapologetically himself. He refers to a love interest who is closeted, "You livin' the life, but…you aint livin' right", perhaps even a revelation he discovered himself when he decided to make his sexuality public.
The scenes truly liven up when Nas's character is seduced by a mystic creature (which is assumed to take the role of the snake in Genesis) and then is taken to a coliseum to be executed. On his ascension to heaven, a stripper pole bursts out of nowhere and he is dragged to hell. Nas accepts his fate and struts into hell and confronts the devil who sits at a throne surrounded by the Latin words, translated as, "They Condemn what they do not understand". Reading between the lines, it is quite evident this is a strong impression Nas has experienced regarding the homophobic slurs and prejudice he has encountered as a gay black man both in his life and under the industry gaze. The symbolisation projected from his dance with the devil could potentially have several justifications for this fabulously raunchy scene. It could be a nudge to the confession he made earlier this year, where he stated, he was once at a stage in his life feeling very suicidal and 'dancing with death'. Or it could be a direct hit at those who told him he was "going to hell" for his sexuality, which by dancing with the devil he chooses to adopt and own the insult and in return tears down the trolls.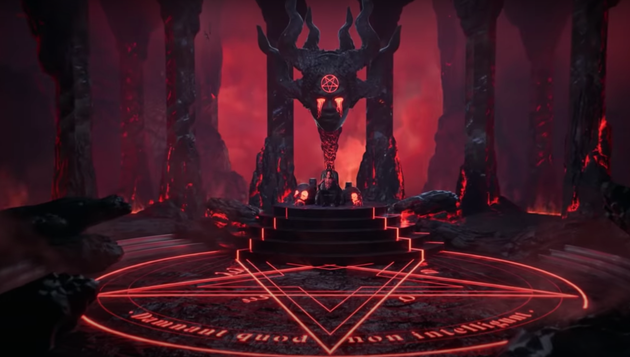 The highlight of the video is when Nas seduces and kills the devil, rightfully claiming the throne and the crown. This is the apex for Nas, killing off all the evil he has encountered and taking back his position in a world this is inflicted by hate for all that is regarded obscene and not virtuous in the eyes of utter ignorance – and dated values that should be completely eradicated from society.
All the 'Rumors' are True: This Song is a Feminist Anthem

Last week everyone's favourite beacon of positivity, Lizzo, teamed up with Cardi B and released their new song, which could potentially be the feminist anthem of the year. Both Lizzo and Cardi are no strangers to producing feminist tunes, with Lizzo's breakout song 'Good as […]
The video is essentially immersed with raw meaning that once translated, you are left with this pure devotion towards the LGBTQ+ community and in a defiant strong state of unity against the hateful stances that are insulting this world. Whether you choose to accept it or not, Montero is complete genius, and a liberating salute to all those feeling the injustice in society while also providing a stunning lesson to own your identity and be vastly proud of who you are.
DISCLAIMER: This article is an opinion piece. All views expressed belong to the writer and do not necessarily reflect the views of The New Feminist.