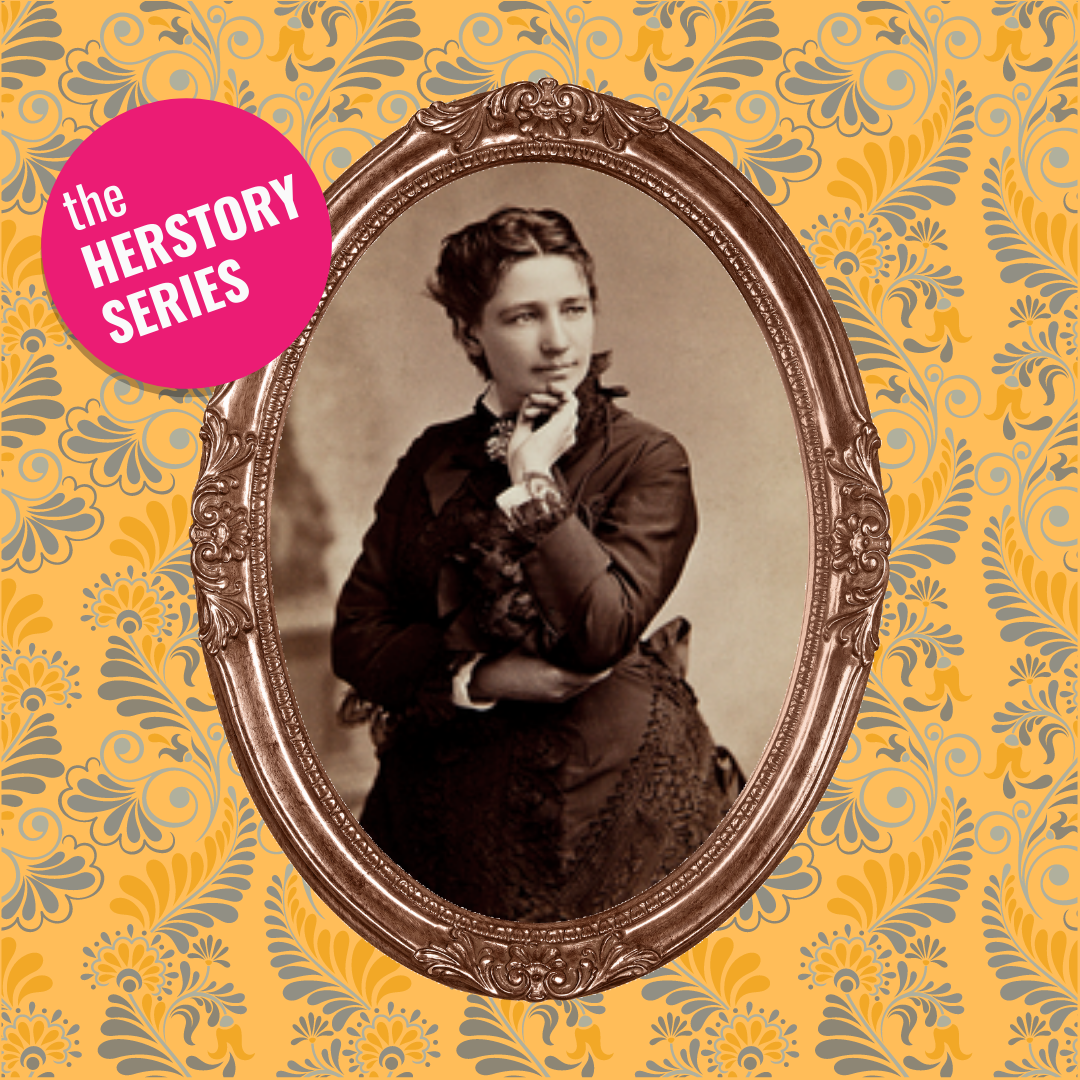 Meet Victoria Woodhull: America's forgotten feminist and the first woman to run for president
Presidential election day, November 1872, a woman sits in a federal jail in New York. She stands accused of printing 'obscene' material about an adulterous preacher in a magazine. But the magazine is her own, which she prints to spread her feminist and free love philosophy, and which she set up with the money she made being America's first woman stockbroker. On top of this, she is standing in the very presidential election taking place outside her jail. She is Victoria Woodhull, America's forgotten feminist.
An Unfortunate Start
Victoria California Claflin was born on 23 September 1838 in Homer, Ohio, to Madame 'Roxy' Claflin, a spiritualist medium, and 'Buck' Claflin, a con man and fake medicine salesman.
As a young girl, Victoria was whipped by her father and it is believed she was raped by him too, given her statement that Buck 'made me a woman before my time.'
Aged eleven and with only three years of education, Victoria was forced to leave school and home after her father attempted to fraudulently claim on the family mill he had burned down and was chased out of town by vigilantes.
In November 1853, barely two months past her fifteenth birthday, Victoria married the twenty-nine-year-old Canning Woodhull in Cleveland. Canning was an unlicensed doctor and charlatan whom Victoria's parents had met when they fled Homer; some say he even abducted Victoria and forced her to marry him. Canning was soon discovered to be an alcoholic and womaniser, and Victoria was forced to take multiple jobs to sustain their family. In 1864, after the births of her two children, Byron and Zula, Victoria broke strict social norms and divorced Canning, but chose to keep his surname.
Free Love
But Victoria's first marriage was not a complete disaster. It exposed her to the rampant inequalities between men and women in marriage and before the law. In a time when divorce was severely limited by law and a source of social leprosy for women, Victoria argued that women should have the right to leave an abusive or unpleasing marriage should they wish.
More controversially, whilst society believed that man had sexual dominion over woman and that sex was purely for male pleasure, Victoria advocated 'free love'. Free love was a movement that argued the separation of the state and law from sexual life like marriage, birth control, and adultery; such matters were only the concern of those involved.
For Victoria, whilst monogamous relationships were preferred, a woman should have the right to changer her mind. She also believed that the choice to have sex always lied with the woman; a belief she passionately argued in her 'Steinway Speech', given at New York's Steinway Hall in November 1971. She stated:
To woman, by nature, belongs the right of sexual determination. When the instinct is aroused in her, then and then only should commerce follow. When woman rises from sexual slavery to sexual freedom, into the ownership and control of her sexual organs, and man is obliged to respect this freedom…then will woman be raised from the iniquity and morbidness in which she now wallows.
I have an inalienable and natural right to love whom I may, to love as long or as short a period as I can; to change that love every day if I please, and with that right neither you nor any law you can frame have any right to interfere.
A Working Woman
Victoria had only received three years of formal education, but her teachers always said she was remarkably intelligent. This intelligence, combined with her ambition not to be confined by her gender, led her to become America's first woman stockbroker in 1870, when she opened Woodhull, Claflin and Co. on Wall Street with her sister, Tennessee.
Victoria made a fortune on the stock exchange by advising high-profile clients, such as the railway billionaire Cornelius Vanderbilt, who made millions when he followed Victoria's advice to sell his shares short. Such remarkable success led newspapers which had once ridiculed Victoria and Tennessee with headlines like 'Petticoats among the Bovine and Ursine Animals' now hailed them as 'the Queens of Finance' and 'the Bewitching Brokers'.
With the money made from their brokerage, Victoria and Tennessee founded their own publication, Woodhull and Claflin's Weekly, on 14 May 1871. The magazine was about one thing – feminism. With a circulation of over 20,000, the Weekly notoriously published controversial opinions on topics such as sex education for girls, free love, votes for women, short skirts, legalising prostitution, and even vegetarianism. The paper was also the first to publish the new English translation of Marx and Engel's Communist Manifesto, printing it in its Christmas 1871 edition.
Votes for Women!
Having penetrated the all-male domains of finance and publishing, Victoria turned to politics. The Weekly had always advocated Votes for Women, but Victoria wanted to go harder and faster.
On 11 January 1871, Victoria became the first woman to petition Congress in person when she testified on women's suffrage before the House Judiciary Committee. Women, she argued, already had the vote, it was guaranteed to them in the Fourteenth and Fifteenth Amendments – all they had to do was use it.
The hearing was such an event that the great American suffragists Susan B. Anthony, Elizabeth Cady Stanton, and Isabella Beecher Hooker delayed the 1971 National Woman Suffrage Association (NWSA) convention to attend it. They saw Victoria as a new champion for their cause and she was welcomed into the leadership of the suffrage movement, using her publication and profound notoriety to bring unprecedented public attention to the campaign.
Victoria for President
On 6 June 1872, Victoria Woodhull of New York became the first woman to run for the office of President of the United States.
She had announced her candidacy two years before, in a letter to the New York Herald in 1870; but it was not until the national convention of the Equal Rights Party at New York's Apollo Hall in Spring 1872 that she was nominated and ratified as an official presidential candidate.
Not only was Victoria the first woman to run for President, but her campaign also included the first black Vice-President candidate when she named the famous abolitionist Frederick Douglass as her running mate (Douglass was already America's first black Presidential candidate, running in 1846). Douglass, however, did not appear that interested – he did not attend the convention, nor did he acknowledge his nomination, and he took no active role in the campaign; but that did not stop the inevitable outrage from some at a mixed 'whites-and-blacks' campaign.
Inevitably, Victoria was mocked, ridiculed, and insulted in the American press. She was named 'Mrs Satan' by one paper for rebuking traditional domestic roles for women, and her advocation of free love was simply another example of female sexual immorality and hysteria. But the greatest outrage and media storm of her campaign was created and published by Victoria herself.
Victoria had always despised the hypocrisy of men taking mistresses and having affairs whilst their wives were expected to remain devoted. So, when she heard from Elizabeth Cady Stanton that Henry Ward Beecher, a famous preacher at Brooklyn's Plymouth Church who had repeatedly condemned her free love philosophy, was himself having an affair with a married parishioner, Elizabeth Richards Tilton, she was hardly going to let it go.
On 2 November 1872, just three days before the election, an entire issue of Woodhull and Claflin's Weekly was devoted to the adulterous affair of Reverend Beecher and Mrs Tilton. The same day, US Federal Marshals arrested Victoria, her second husband, Colonel James Blood, and Tennessee on charges of 'publishing an obscene newspaper' and 'circulating obscene material in the post' because of the contents of the issue.
The sisters were kept in Ludlow Street Jail for a month, but all three were later acquitted. Three years later, in 1875, Beecher was put on trial by Mr Tilton for his adultery; it was a hung jury, but his credibility was ruined. But for Victoria, the damage was instantaneous. She was in prison on election day, she was unable to cast that symbolic vote as she intended, and she received no electoral votes. Indeed, even her own running mate, Frederick Douglass, voted for the eventual victor, Civil War General Ulysses S. Grant.
The move also alienated her from many of her fellow suffragists, who had been growing jealous of her limelight and fanaticism for a while, and who disagreed with her tactics. She later had an argument with Susan B. Anthony during a meeting of the NWSA in which their relationship was ruined. Indeed, when Anthony and Stanton wrote their 'comprehensive' history of the women's suffrage movement in the 1880s, they left Victoria out completely.
It is unlikely that Victoria was ever a real presidential candidate; she was under the mandated minimum age of 35 and her inability to vote (as a woman) caused some contemporaries to doubt her status as a full US citizen, required to become president. But the very reality that a woman was running for president and even attempt to vote was enough to keep fuelling that first wave of feminism, keep it in the public eye, and turn Victoria into a role model for countless American women.
Later Life
In 1876, Victoria divorced her second husband, James, and moved to the UK with Tennessee the following year. She gave lectures on the female anatomy and women's suffrage and financial independence in London. It was at one of these that she met her third husband, the banker Joseph Biddulph Martin, whom she married in 1883.
She ran another publication, The Humanitarian, between 1892 and 1901 and was active in the British suffragist movement; this was even after her old colleague-turned-adversary Susan B. Anthony wrote to Millicent Fawcett (leader of the National Union of Women's Suffragist Societies) calling Victoria and Tennessee 'lewd and indecent'.
However, after 1875, some of Victoria's central philosophies began to change, spurred by her conversion from spirituality to conservative Christianity. She began publishing works arguing against free love, calling it a 'curse on society' and advocating female purity, marriage, and motherhood; she even claimed that her previous works on the topic were never really her own. She also became an ardent opponent of abortion, arguing that if women had control over their bodies and sexual actions then they would never get an unwanted pregnancy in the first place, and a strong supporter of eugenics, calling for the sterilisation of those 'unworthy' to bear children, though this was a popular view at the time.
After Joseph's death in 1901, Victoria retired to Worcestershire, settling down in Bredon's Norton, George Washington's ancestral home. She lived long enough to witness the passing of the Voting Rights Act in 1918, which gave some women in Britain the right to vote, and the Nineteenth Amendment in 1920, which granted American women equal voting rights with men. Victoria Woodhull Martin died in 1927, aged 88.
Victoria Woodhull was undoubtedly America's ultimate First Lady; the first to become a stockbroker, the first to own a weekly publication, the first to testify before Congress, and the first to run for president. She rose from the poverty and abuse of her childhood to become a rich, inspirational, and politically astute woman and leader; all this in the face of ridicule and defamation from her male contemporaries and even her former colleagues and sisters-in-arms. Her enduring fight for a woman's right to education, financial independence, vote, and control of her body and sexuality serves as inspiration for the same fight that continues today.
"Women are the equals of men before the law, and are equal in all their rights"

Deprecated: Function get_magic_quotes_gpc() is deprecated in /var/www/wp-content/themes/ebullient/framework/lib/qodef.functions.php on line 214