It was outside, on one particularly cold Baltimore morning, that Susan Clayton had her 'lightbulb' moment. As a running coach for non-profit, Back on My Feet, Susan would be up by 5.30am to exercise with members of Baltimore's homeless community.
"At Back on My Feet, we would go out running whatever the weather. I tried all kinds of mittens, but they didn't work, my hands would still be freezing," Susan recalls.
"One morning a friend turned up with some socks on their hands and I thought, 'I could make something better than that!' I do a lot of knitting, so I made up a couple pairs to test."
With an inside pocket to fit a much-needed handwarmer, Susan made convertible, thumbless gloves to test. Her prototypes were successful – even at 5.30am, her hands stayed toasty throughout her run. She didn't know if her gloves would be patentable but, at the advice of a friend, she took a chance. Susan went to a patent attorney.
After three years, her design was patented. Now loved by runners, hikers and bikers alike, Susan's business, WhitePaws RunMitts, has featured in GoDaddy's YouTube docuseries, Made In America: Baltimore. Here, Susan discusses the docuseries, offers her career advice and shares her experiences of founding a business in the outdoors industry.
Have you received any career advice, which you continue to live by?
One of my mentors recently commented on how much more comfortable I am with talking to people. When I first started, I was very shy and wouldn't go up to people. But I learned that if you go up and ask for advice or ask for information, you'll find people are willing to give it to you. Sometimes you gotta take a little innocent risk. Call someone. Put yourself out there. In general, I think people are friendlier and more helpful than we give them credit for. 
Could you share your experiences of working in the outdoors industry?
I originally placed myself in the running industry but gradually, as more people were using RunMitts outside of running, it became this outdoors product. Because of this, I haven't experienced the same struggles that other female minorities have felt within the outdoor industry, which does tend to be very male and white.

I also live in the city, so I'm very urban. But I think the outdoors industry is still thought of as woods and mountains. People forget that when they run around their city, they are outdoors. I like the fact that you can just walk out your front door and run – even if you just do a mile – and it clears your head. So, I think we should focus more on being outdoors in general, rather than this feeling that you must be up a mountain to be outside.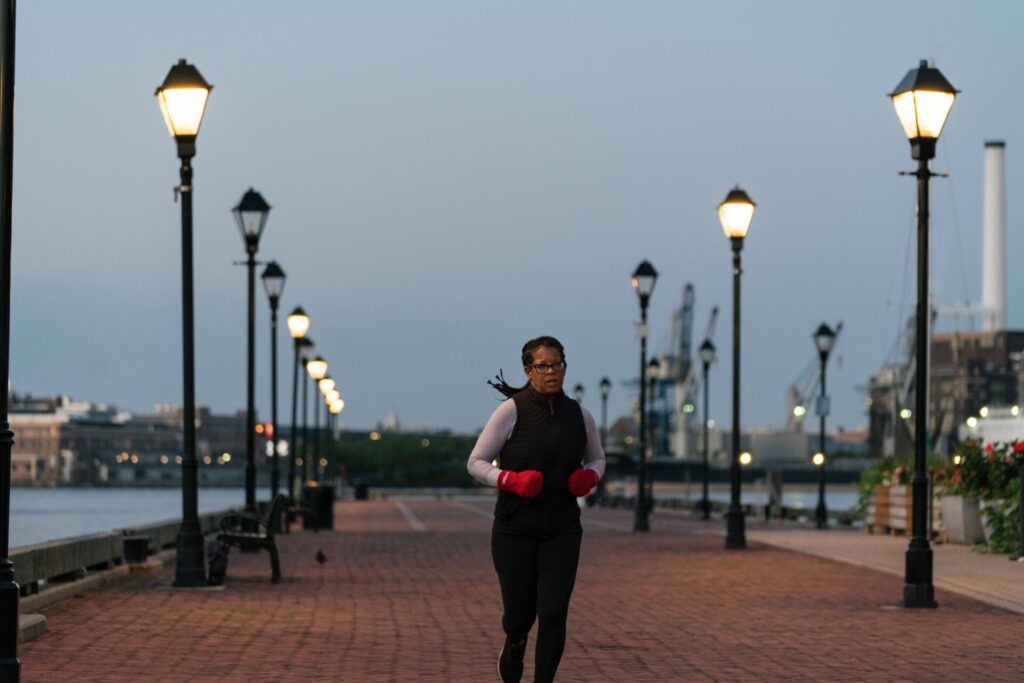 What advice would you give your younger self?
When I was younger, I felt like I always had to be perfect. But I've learned that even if something doesn't work out, you can try something else. I didn't have that attitude when I was younger, so I would say It's okay to try things; it's okay to fail. And even if you do, it's always okay to start over again.
Is there anything you would do differently if you started WhitePaws RunMitts again?
There were so many ups and downs, especially just trying to figure out the whole manufacturing process! If I were to do it again, I would do more research on manufacturing while the patent process was going on. That way, once the patent did go through, I'd be better equipped to start manufacturing. Instead, it was a little bit on the fly!
How was it to be featured on GoDaddy's Made in America?
At first, I was nervous about it, but once I started, it was almost cathartic to talk about all the ups and downs of founding a company. I also think these documentaries are great for educating the consumer. Especially with fast fashion, people often just look at the finished product without considering the backstory. In reality, there's so much that goes on behind the scenes and I'm grateful that people can see that. I'm really proud of the project and I'm glad it's out there.
Watch Susan Clayton on Made in America here.

Deprecated: Function get_magic_quotes_gpc() is deprecated in /var/www/wp-content/themes/ebullient/framework/lib/qodef.functions.php on line 214